Smile Makeovers – Grand Island, NE
Your Dream Smile is Well in Reach
At Stec & Stines Cosmetic and Family Dentistry, we know the power of a beautiful smile! Smiling isn't just a way to show that you're happy or enjoy a good laugh. Your smile creates confidence, improves your mood, boosts your immunity, and can even lower your blood pressure!
Why Choose Stec & Stines Cosmetic & Family Dentistry for Smile Makeovers?
Comprehensive Menu of Services
State of the Art Technology
Three Skilled, Experienced Dentists
Do I Need a Smile Makeover?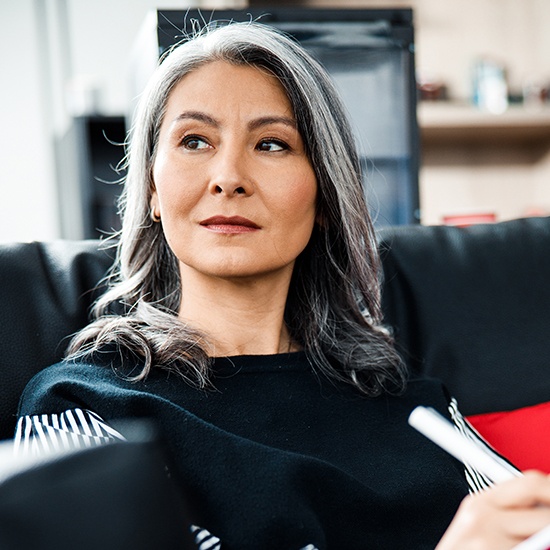 If you feel your smile is lacking and you've spent years hiding your teeth, it's time to consider an instant smile makeover! If you live in Grand Island or one of the surrounding communities, schedule your cosmetic consultation with Dr. Steven, Dr. CJ, or Dr. Jacob. We can discuss your smile goals and determine which procedures are best for you. With Lumineers, porcelain veneers, or Snap-On Smile, we can fix all of these flaws:
Black spots and yellowish stains
Chips and cracks
Gaps and broken teeth
Misshapen teeth
Exposed tooth roots
Crooked and overlapping teeth
Damaged teeth
Teeth ruined by decay or infection
Teeth with lines or calcified spots
Benefits of Smile Makeovers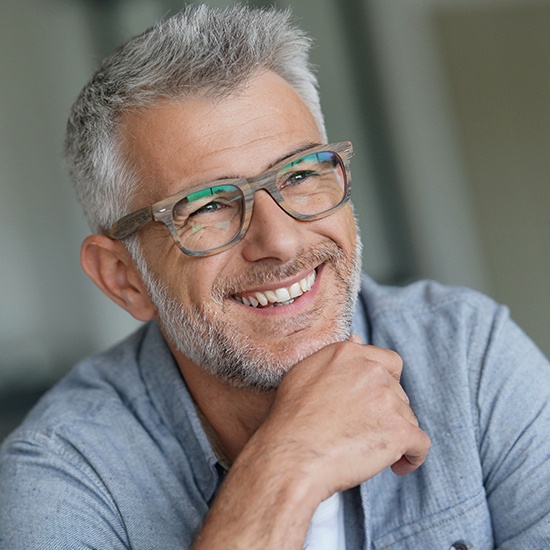 All of your options for your instant smile makeover—Lumineers, porcelain veneers, and Snap-On Smile—have many of the same restorative and cosmetic benefits:
Strengthens teeth
Improves functionality and bite
Looks very natural
Allows better chewing and speaking
Resists staining
Straightens crooked or crowded teeth
Long-lasting and durable
Adds confidence and vitality to your smile
Veneers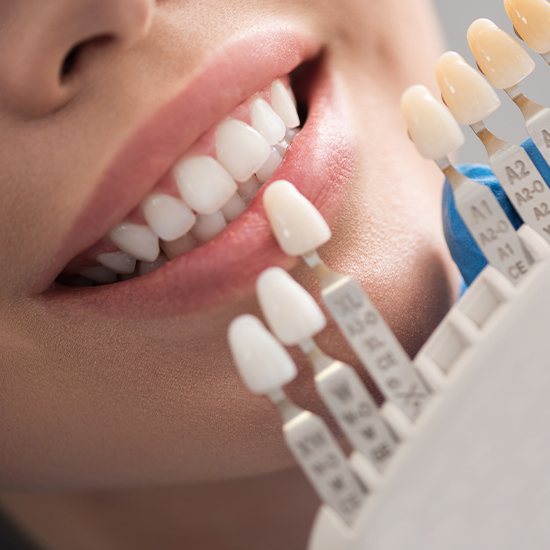 Traditional porcelain veneers are a permanent smile solution. Depending on the damage and structural content of your teeth, your smile goals, and your dentist's recommendations, porcelain veneers may be the best option for your instant smile makeover. Your porcelain veneers are handcrafted by one of our trusted dental lab partners, and when it comes time to place your new veneers, your dentist will use a personal and expert touch.
The process is simple. A small amount of surface enamel is removed to allow the veneer to blend seamlessly within the natural smile line. We take impressions of the prepared teeth that are sent to a dental lab where the custom veneers are crafted and place a temporary set to protect teeth and help you adjust to the look and feel until the final restorations are completed. When we receive the custom porcelain veneers from our lab, you'll return to exchange your temporaries for a permanent restoration.
Lumineers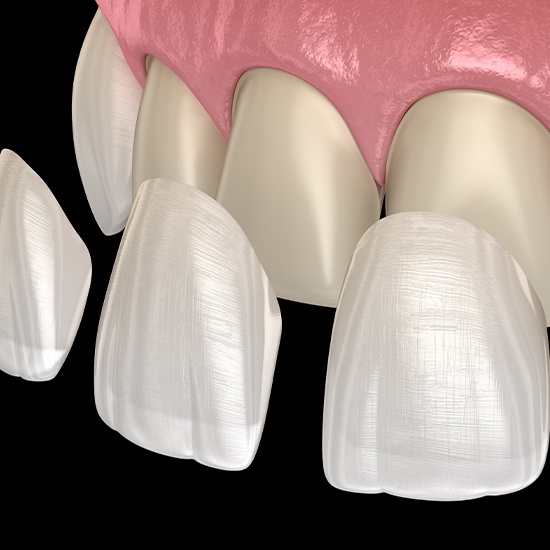 Lumineers are customized for your smile in the same way we prepare traditional veneers. However, Lumineers have two key differences. For one, placing Lumineers requires very little tooth preparation. A minimal amount of enamel is removed. This leads to major benefit two, which is that you can remove your Lumineers and still have a natural smile if you determine that Lumineers are not right for you. This simple procedure is effective in concealing several smile flaws, including chips, cracks, and staining with just one treatment rather than undergoing multiple procedures.
The DenMat laboratory is the only place that creates Lumineers, so you can expect quality craftsmanship. The treatment process for Lumineers is generally very comfortable, and most patients don't need anesthetics (and that means no shots!). We simply send impressions of your smile to the DenMat lab, and once your custom Lumineers are returned to our office, we carefully place them, leaving you with a beautiful smile.
Snap-On Smile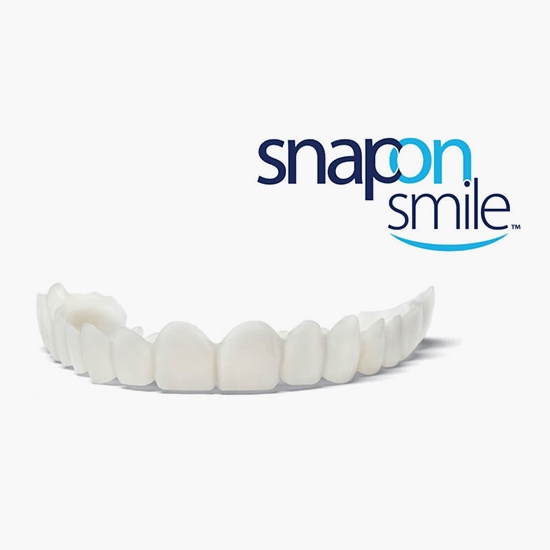 Snap-On Smile is a very affordable option for Grand Island patients seeking a new smile without the commitment required for porcelain veneers or Lumineers. No shots, no drilling, and no reduction of tooth structure are needed for a Snap-On Smile. The material is thin and natural-looking and "snaps" right on to your teeth for a comfortable fit. You can make your Snap-On Smile temporary or permanent, and you can eat, drink, and smile while being confident again!
Crown Lengthening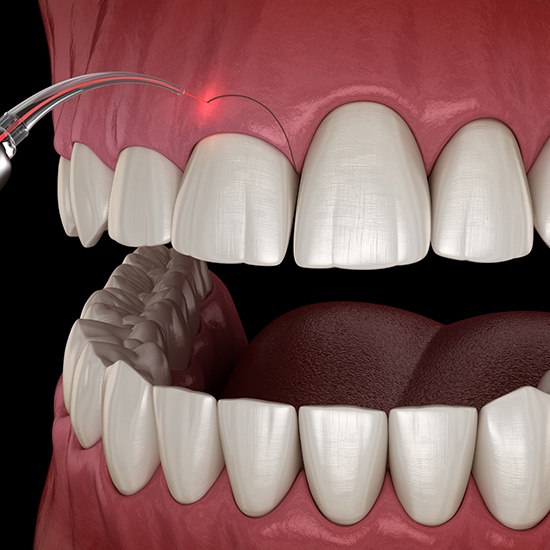 Before attaching a dental crown to restore damaged teeth, we sometimes need to remove a small amount of gum tissue to reveal adequate dental structure to support the restoration. This procedure is known as crown lengthening, and it can be performed in our office using a state-of-the-art soft tissue laser. This allows us to remove an extremely precise amount, no more or less than we need, and reduce patient discomfort and healing time significantly compared to the traditional scalpel and suture technique.
Digital Smile Design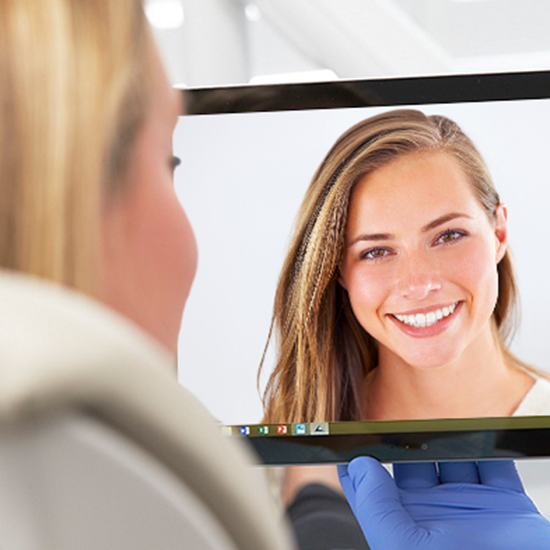 The phrase "a picture is worth a thousand words" is a common adage, but it's never been truer than with cosmetic dentistry. Our team is happy to spend as long as patients would like us to explain their various treatment options, but it's often easier to capture an image of their smiles and show them what the potential results will look like. We use special digital imaging software to do just this, allowing patients to preview their results, share them with friends and family, and feel 100% confident in the treatment plan they choose.