Dental Implants – Grand Island, NE
Completely Restore Your Smile for Life
Dental implants are titanium posts inserted below the gum line that mimic the natural form and function of tooth roots, making implant supported tooth replacements look and feel more natural compared with traditional methods like bridges or dentures.
At Stec & Stines Cosmetic and Family Dentistry, we're happy to offer the full implant treatment in one office. Some general dentists refer patients out for the placement of dental implants, but Dr. CJ Stec has the training and experience to precisely and successfully place and restore dental implants. Dental implants are also the most versatile tooth replacement option, allowing us to restore a single tooth or a full arch of teeth.
Why Choose Stec & Stines Cosmetic & Family Dentistry for Dental Implants?
In-House Placement and Restoration
Warm Neck Wraps and Other Comfort Amenities
Aided by the Latest Dental Technology
The 4-Step Dental Implant Process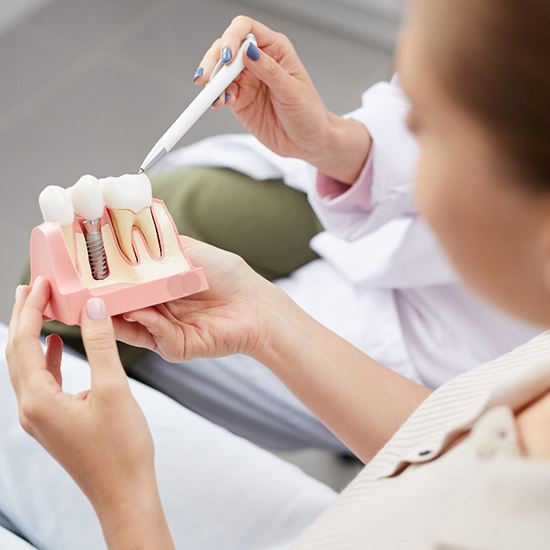 In truth, getting dental implants can take several months. Unlike dentures or bridges, you see, they require a unique, multi-step process. Still, rest assured – the benefits are well worth this time and effort! Stec & Stines Cosmetic and Family Dentistry performs implant placement itself, so you'll receive stellar results. After all, our dentists' combined experience and training spans several decades. As for the treatment process, there are four stages to expect: consultation, surgery, osseointegration, and delivery of final restoration.
Initial Dental Implant Consultation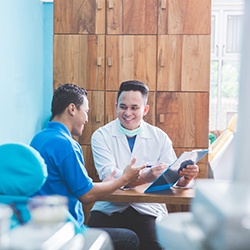 As you start your implant journey, the first thing you'll do is consult our dentists. In particular, we'll talk to you about your smile goals, medical history, oral health, and so on.
The main goal of this consult is to confirm implant candidacy. In other words, we use its findings to see if treatment would help. Should it not, though, we'll work with you on preliminary procedures like gum disease therapy, tooth extractions, or bone grafting.
Of course, the visit also tells you how implant placement works. If our team decides to go forward, we'll walk you through its steps – the timeline, the cost, and more.
Dental Implant Surgery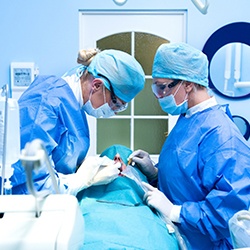 Since our office does implant surgery in-house, you won't need to see an expensive outside specialist. Therefore, you won't face major treatment delays after the initial consult. Plus, getting implants with us means the dentist can reference your dental records. (We likely already have them on file.)
The surgery itself will involve four simple steps:
Mouth Numbing – Before surgery even begins, our team will numb the treatment area. Doing so ensures you won't feel pain during the implant placement. (If you'd like, we could apply dental sedation at this point too.)
Gum Incision – Once you've been numbed, we'll make an incision in your gums. This action will create room for the future implant.
Implant Placement – The dentist will use precise tools to place the implant in your jaw socket.
Closure of Gums – With the implant placed, we'll close your incision and put a cap over the post.
Dental Implant Osseointegration & Abutment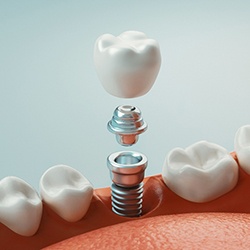 You aren't out of the woods when implant surgery ends. From there, you'll need to wait for your new tooth (or teeth) to fuse with your jaw. This fusion, known as osseointegration, lasts 4-6 months and helps the restoration(s) become secure. Needless to say, you'll have to be careful with the treatment site as it happens.
After the fusion, we'll place an abutment on the post. This counts as minor surgery, meaning you'll need a few weeks to recover. As you do so, your final restoration will be crafted from impressions taken of your mouth.
Delivery of Dental Implant Restoration(s)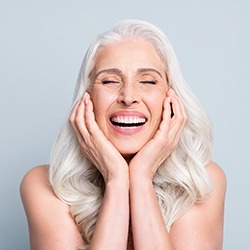 Lastly, you'll come back to our office for the final restoration. Depending on how many teeth were lost, this prosthetic could be a crown, bridge, or denture. Regardless, we'll fit it effectively and ensure the resulting bite is comfortable. You'll then be ready to enjoy a new-and-improved smile!
What are the Benefits of Dental Implants?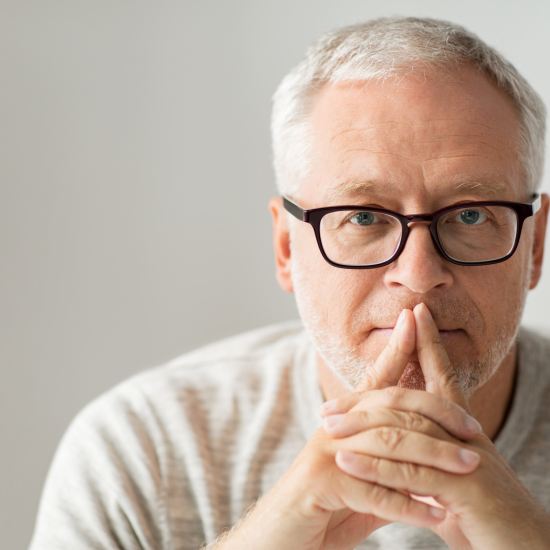 There are many factors that make dental implants fundamentally more effective than other types of restorations, including the following benefits:
Traditional replacement teeth need to be replaced every five to ten years, but implant-supported restorations can last for thirty years or longer.
Because the roots of missing teeth are replaced, implant-supported restorations provide stimulation to maintain jawbone density and gum tissue volume.
For patients with partial and full dentures, dental implants can increase their chewing strength from 20% to 70%. This means they're able to consume a wider range of nutritious foods.
Dental implants look just like natural teeth and don't have obvious metal or acrylic attachments.
Who Should Get Dental Implants?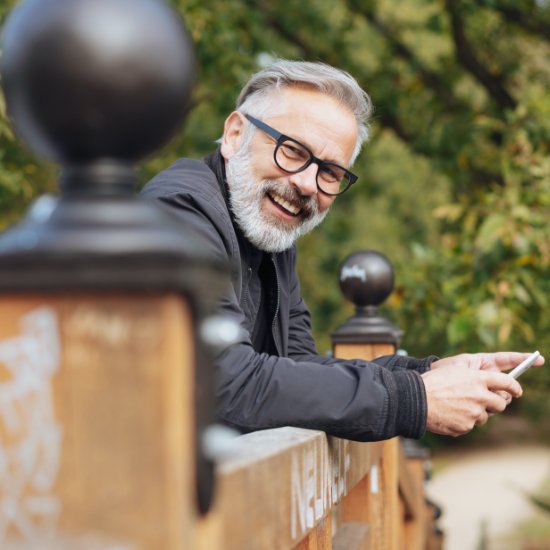 You need to have lost at least one tooth to be considered for dental implants. Any bone loss needs to be corrected before your jaw can support the posts, and health issues like gum disease or diabetes need to be properly treated or controlled to ensure the procedure's success. It's possible to use implants to replace a single tooth, multiple teeth, or an entire arch; the procedure will be different depending on what your unique needs are.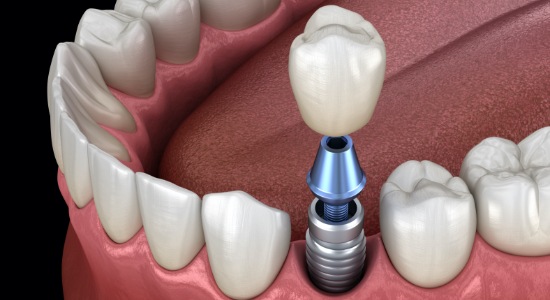 Missing One Tooth
One titanium post is placed in the gap; we'll use a CT scanner to make sure it's placed in the ideal spot. It will take several weeks for the bone to fully integrate with the post. Once an abutment is attached, you'll need to wait for your gums to heal before a custom-made crown can be anchored to the implant.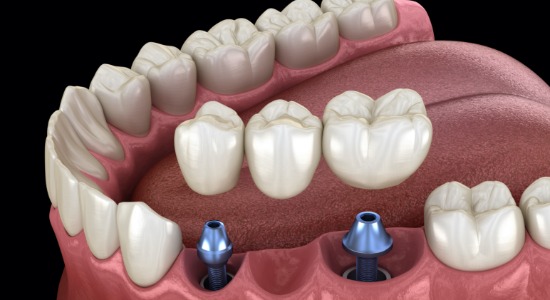 Missing Multiple Teeth
If you have lost at least three teeth in a row, it only takes two implants to replace them at the same time. The posts can support the crowns of a dental bridge, allowing you to fill in the empty space without making any changes to your remaining healthy teeth.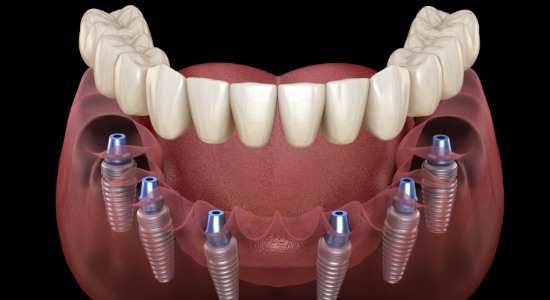 Missing All of Your Teeth
Patients with dentures may be able to get dental implants, providing their teeth with better stability. This also eliminates the slipping and discomfort associated with traditional dentures. And since implants improve the chewing strength of prosthetic teeth, patients are able to eat virtually anything with their new smile.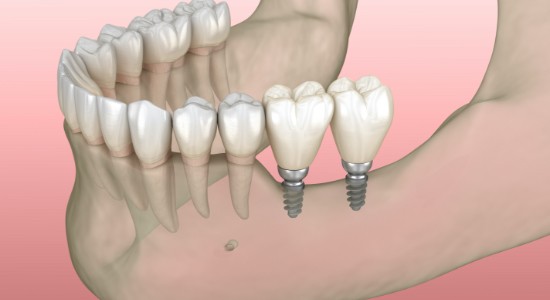 Mini Implants
As the name suggests, mini implants are smaller versions of the traditional titanium posts. These implants are ideal for patients with naturally smaller teeth, those who need to replace just the front teeth, and patients who have diminished jawbone density that could reduce their chances of successful traditional implant placement.
How Much do Dental Implants Cost?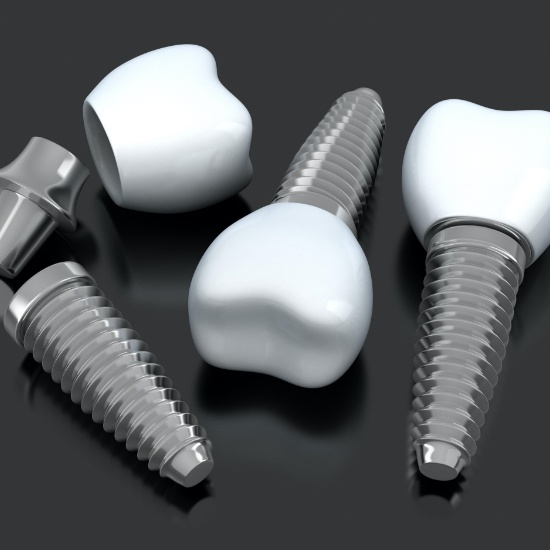 The cost of your dental implant tooth replacement will depend on a variety of factors, including the number of missing teeth, where they are positioned in the smile, what type of tooth replacement you receive, and what the implant posts are made from. If you want to get an accurate estimate of your out-of-pocket costs, the best way to do this is to call our team to schedule a consultation.
What is the Success Rate of Dental Implant Placement?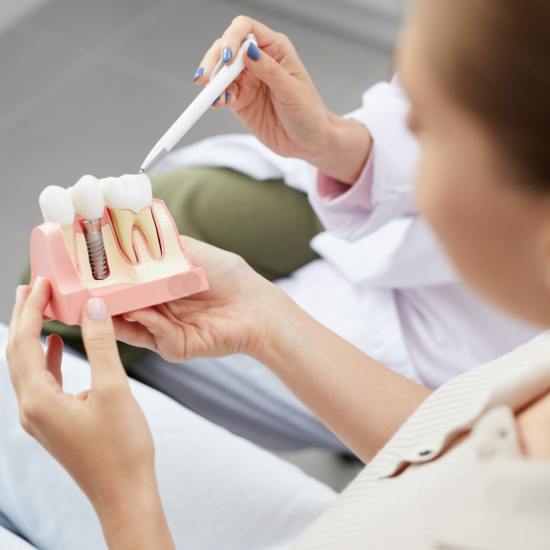 Depending on the individual patients' oral and overall health, the success of dental implant-supported restorations after ten years is between 95 and 98%. To help their new teeth last as long as possible, implant patients are encouraged to:
Maintain proper brushing and flossing as directed
Visit us at least two times each year for dental exams and teeth cleanings
Let us know right away if you notice changes in the function of your replacement tooth or teeth
Let us know if there are changes to your prescription medications or you are diagnosed with a chronic illness
Maintaining & Caring for Your Dental Implants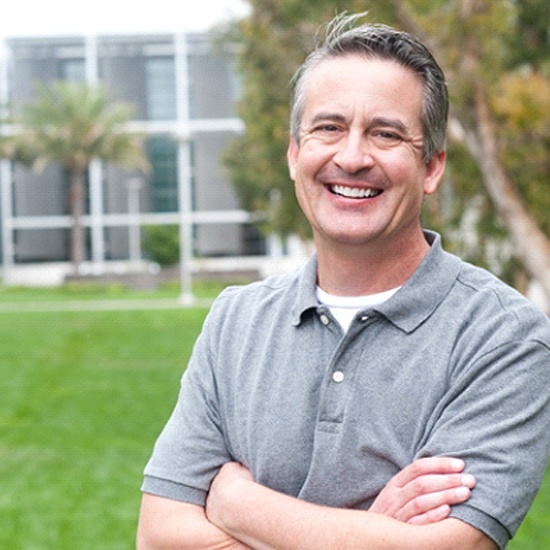 Dental implants have the potential to keep your smile complete, strong, and healthy for decades. Although they have an impressive success rate of 90-95%, that's only the case if you take proper care of them and protect them from damage and infection. At Stec & Stines Cosmetic Family Dentistry, we'll provide you with all the information you need to keep your smile firmly in place for a lifetime. If you'd like to learn how to maintain your implants, continue reading or call our office to speak directly with a member of our team!
Make Oral Hygiene a Priority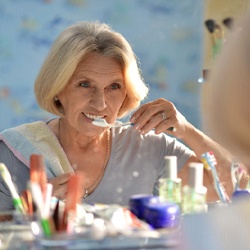 Once your dental implants have successfully integrated with the jawbone, you'll need to be diligent about practicing good oral hygiene. Just because implants can't get cavities doesn't mean you can slack off on taking proper care of your new smile. A solid at-home dental care routine is essential to ward off oral health issues (like gum disease) that can lead to dental implant failure. Brushing twice a day, flossing daily, and rinsing with an ADA-approved mouthwash are necessary to keep your implants in optimal condition.
Eat a Healthy Diet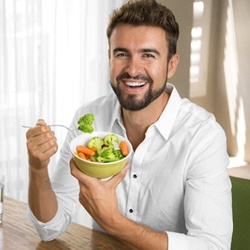 Although you can eat almost any food with dental implants, it's best to stick to a nutritious diet. Overconsumption of sugary, starchy, and acidic foods can be problematic to your new smile. Instead, you should follow a healthy diet full of nutrient-rich foods (i.e., fruits, vegetables, lean proteins, whole grains, dairy products). Not only are they great for your oral health, but your waistline as well. Foods that are rich in calcium and vitamin C are excellent for keeping your jawbone strong and gum tissues healthy.
Break Bad Habits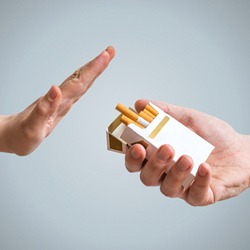 Do you smoke, bite your fingernails, chew on pens or pencils, use your teeth as tools, or munch on ice cubes? These poor habits can easily cause your dental implants to break or fail. To protect your investment, you should kick these habits to the curb. It's a good idea to keep some sugar-free gum in your pocket for times when you feel tempted to chew on a non-food item. If you're trying to quit using tobacco, ask a medical or dental professional for assistance. They'll provide you with the resources, support, and guidance you need to make the feat as easy as can be.
Protect Your Dental Implants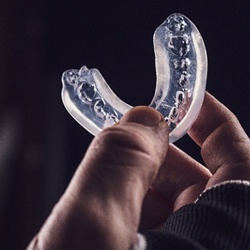 If you regularly play sports or grind your teeth at night, you should ask your dentist about a custom-made oral device. An athletic mouthguard can protect your teeth, gums, and implants against injuries if you sustain a blow to the face. Meanwhile, a nightguard will prevent serious damage to your enamel and implants.
Schedule Regular Dental Checkups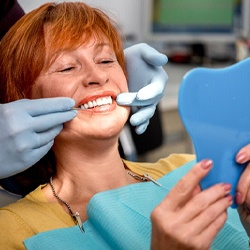 Aside from brushing and flossing, you should see a dentist regularly to keep your implants in their very best shape. These preventive visits allow them to monitor your new smile, ensuring no problems develop along the way. Early detection of oral health issues is a great way to avoid more timely and costly problems down the line. Plus, it'll allow you to enjoy your new and improved smile for life!