Dental Checkups & Cleanings – Grand Island, NE
Keeping Your Smile in Top Form
The foundation of any dental treatment plan is regular dental checkups and professional cleaning appointments. Many patients think these appointments aren't necessary if they don't notice any problems with their smile, but unfortunately, most oral health issues have extremely subtle warning signs in the earliest stages, meaning they go unnoticed without professional evaluation, leading to more significant damage down the line. The American Dental Association recommends patients visit at least two times each year to prevent the majority of oral health issues.
Why Choose Stec & Stines Cosmetic & Family Dentistry for Dental Checkups & Cleanings?
State of the Art Dental Technology
Numerous Amenities for Your Comfort
Comprehensive Dental Care Under One Roof
What Happens During a Checkup?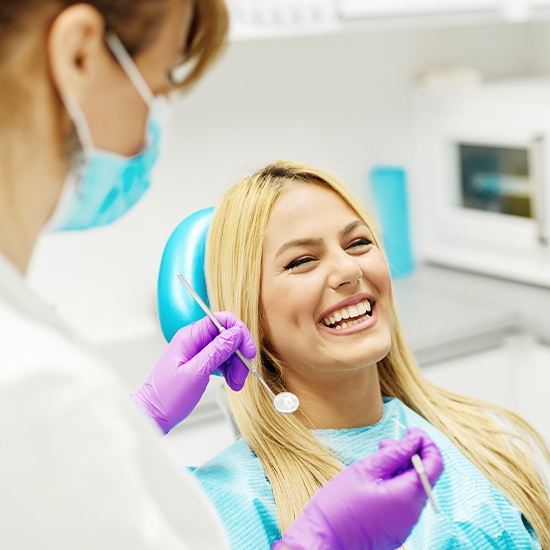 There are typically four parts to a six-month checkup with our Grand Island, NE team.
Diagnostics – We capture images of the underlying structures of patients' smiles to find decay or damage that might otherwise go unnoticed.
Evaluation – We carefully evaluate patients' teeth, gums, lips, throat, and other facial structures, screening for signs of common oral health concerns, including tooth decay, gum disease, bruxism (teeth grinding and clenching), temporomandibular joint (TMJ) dysfunction, and oral cancer.
Professional cleaning – One of our skilled hygienists carefully removes bacteria, plaque, and tartar from even the hardest to reach parts of the teeth.
Consultation – One of our dentists sits down with a patient one on one to answer questions, discuss areas for concern, and create a treatment plan to achieve and maintain the optimal level of oral health.
If you're ready to schedule your dental checkup with our team, contact us today. We look forward to helping you achieve your smile goals.