Dental Crowns – Grand Island, NE
Restore the Integrity of Damaged Teeth
Tooth enamel is the strongest substance in the entire body. However, it isn't indestructible. There are all sorts of ways that teeth can become damaged, including poor oral hygiene, a sports injury, or an unexpected accident. If you have a tooth that is structurally compromised, it becomes vulnerable and is more likely to experience additional damage later on. The good news is that at Stec & Stines Cosmetic & Family Dentistry, we offer customized dental crowns to restore the integrity of damaged teeth. To find out if this is the right option for you, give us a call!
Why Choose Stec & Stines Cosmetic & Family Dentistry for Dental Crowns?
Carefully Chosen High-Quality Materials
Amenities for Comfortable Treatments
The Latest in Dental Technology
What is a Dental Crown?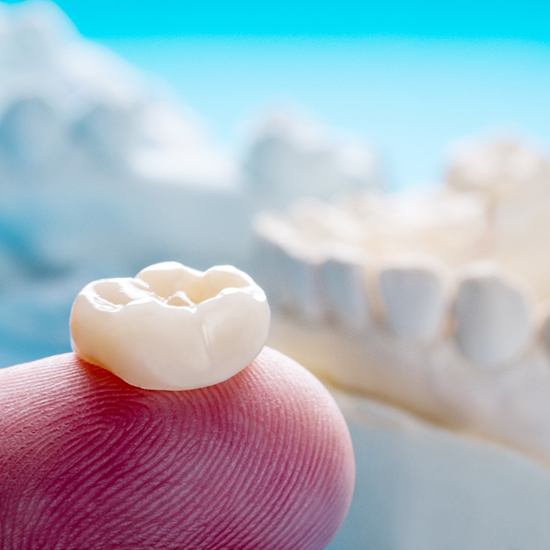 A dental crown is a hollow recreation of your broken, weak, worn, or otherwise structurally damaged tooth. It is securely bonded over the tooth, restoring its form and function. Dental crowns are commonly used to…
Hold together parts of a broken tooth
Restore the strength of a weak or worn tooth
Repair a faulty or broken filling
Make cosmetic improvements to a severely damaged tooth
Complete root canal therapy
Dental crowns can also replace one or more teeth when supported by dental implants or when they're part of a dental bridge.
The Process of Getting a Dental Crown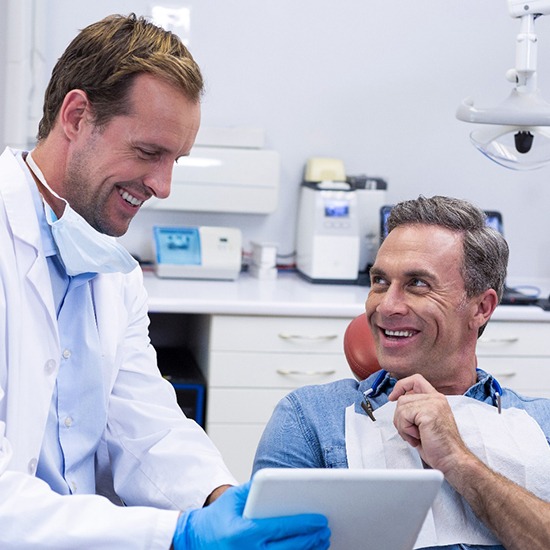 There are several options for what your crown is made out of. Porcelain, porcelain-fused-to-metal, zirconia, gold, and metal alloys offer different pros and cons. You and your dentist will discuss your options and together decide which best suits your lifestyle, smile goals, and budget.
Dental crowns are completed over the course of two to three visits to Stec & Stines Cosmetic & Family Dentistry. In the first, your dentist removes any existing decay from the tooth. Then, by removing tooth enamel and reshaping the tooth, your dentist makes room for the new crown. Impressions and photographs are taken, and a temporary crown is placed for you to wear until your new restoration is ready.
Once your permanent crown has been created in a separate laboratory, you'll revisit our office for a final quality check. We will remove the temporary crown(s) and check to make sure your new restoration fits and feels just like it should. Your dentist will make any final adjustments as needed, then they'll securely bond the crown into your smile.
The Benefits of Getting a Dental Crown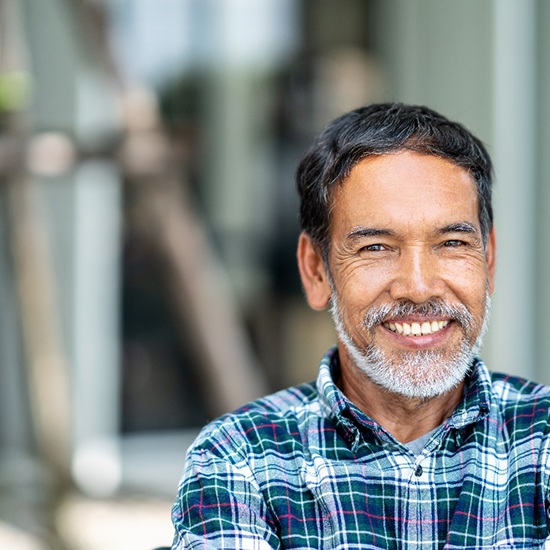 There are numerous benefits that you can expect when you get a dental crown. Here are just some of the more prominent ones:
Comfortable
Prevents future problems
Natural appearance
Customized
Can last 15+ years
Easy chewing
Dental Crown FAQs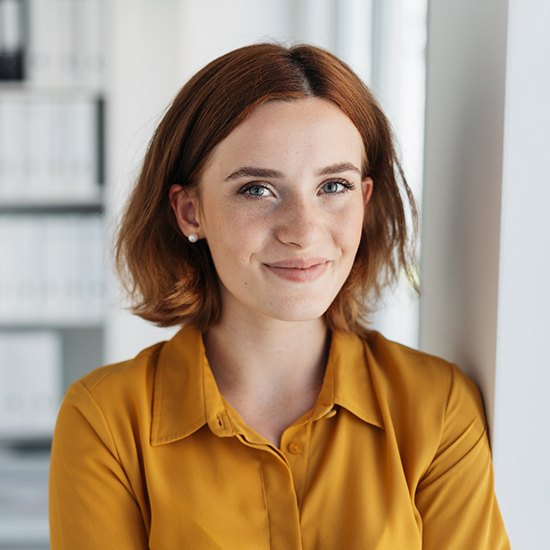 So far, we've covered everything from the process of getting dental crowns in Grand Island to the benefits they offer. If you still have questions on your mind about this restorative dental treatment, we can help! The best way to get answers to specific questions is by scheduling a consultation with our team or giving us a call.
Are Dental Crowns Permanent?
No, dental crowns are not permanent. The reason they are considered irreversible is because the alteration to your natural teeth requires a dental crown for protection moving forward. The good news is that this restoration can last for well over a decade (around 15 years) with proper care. So, do your best to maintain it with best practices like brushing twice a day, flossing daily, and getting a dental cleaning every six months.
How Do You Know When a Dental Crown Needs to Be Replaced?
The longevity of your dental crown will vary depending on important factors, like how well you care for it. While your dentist will check on your restoration at each biannual checkup, it's important to keep an eye out for common warning signs that it needs to be replaced between visits. Since most of the symptoms are obvious, like pain when you chew or a dark line along the base of the crown, that task should be relatively easy. Of course, you should get in touch with our Grand Island dentists the moment any abnormal symptoms arise so we can restore it.
Do Dental Crowns Get Cavities?
Since dental crowns are crafted from high-quality materials like porcelain, they are cavity-resilient. However, the tooth underneath your dental crown and the surrounding gums are still vulnerable to decay and infection. So, you can't toss your oral hygiene routine aside because you have a dental crown. To prevent cavities from developing, you need to implement a solid oral hygiene routine, keep your consumption of sugar to a minimum, and prioritize your six-month dental checkups.
What Happens If You Wait Too Long to Get a Dental Crown?
Unfortunately, many patients adopt the belief that they can "wait it out" when it comes to dental problems, like cavities. However, it's important to know that these oral health concerns won't heal on their own – your Grand Island dentist needs to intervene. If they don't, then your bite, your oral health, and your overall health will be negatively impacted. So, don't put off your treatment any longer than you have to.
What's the Difference Between a Temporary Crown and a Permanent Crown?
As you may have guessed, the difference between a temporary crown and a permanent one is that the former is a short-term solution. In other words, it's only designed to protect your tooth while the lab artisans are crafting your permanent one. As a result, you need to take extra care, like a very gentle brushing routine and no hard, crunchy, or sticky foods. In fact, your dentist may recommend not chewing on that side of your mouth at all. Once your permanent crown arrives and is placed securely over your tooth, it can last for 10+ years with proper care.
Does It Hurt to Get a Dental Crown?
Just like when you get a filling, your dentist will numb the tooth that they'll be working on when you get a crown. While you shouldn't feel anything during the procedure itself, you may experience some sensitivity for a few days afterward. Fortunately, this is temporary and can be managed with over-the-counter pain relievers. If discomfort persists or worsens, give us a call!
Do Dental Crowns Feel Natural?
Within a few days of receiving your permanent crown, it should start to feel increasingly natural. Crowns are made from durable materials that can stand up to everyday chewing forces just as easily as tooth enamel, so eating with a crown shouldn't feel strange. The reason your dentist reshaped your tooth and took impressions was to ensure that the crown would fit comfortably in your mouth. Ultimately, it shouldn't feel awkward or even noticeable.
Are Dental Crowns Safe for MRI?
This depends on the material that your crown is made from. Our crowns are made from porcelain which won't affect the magnetic resonance imaging (MRI) process. Newer metal crowns are often made from materials that don't interfere with MRI machines either, but older ones can be problematic. If you have a metal dental crown, let your dentist, doctor, and MRI technician know before your MRI. This way, you can ensure that you get an accurate diagnosis safely.
Can Dental Crowns Be Whitened?
Dental crowns cannot be whitened as your teeth can. Tooth enamel has tiny pores through which bleaching gels can enter and break apart stains. However dental crowns are not porous in this way, so they will always remain the same color. To minimize the risk of your natural teeth becoming discolored, it's important that you keep up an excellent oral hygiene routine. If you are interested in teeth whitening, it is best to consider this before your dental crown is placed. This way, your crown will be made to match the ideal shade of your teeth.