Dentures – Grand Island, NE
An Effective & Affordable Way to Restore Your Smile
Many people who battle with moderate to severe tooth loss often turn to dentures. Although this treatment has been popular for decades, the latest advancements in dentistry have made these restorations more durable, comfortable, and natural-looking than ever before. If you're missing pearly whites, our team at Stec & Stines Cosmetic and Family Dentistry can effectively replace your teeth with dentures in Grand Island. Keep reading or get in touch with our team members if you'd like to learn more about this treatment today!
Why Choose Stec & Stines Cosmetic & Family Dentistry For Dentures?
Effective, Custom-Made Restorations
Friendly Team & Experienced Dentist
Durable & Natural-Looking Dentures
Who Is a Good Candidate for Dentures?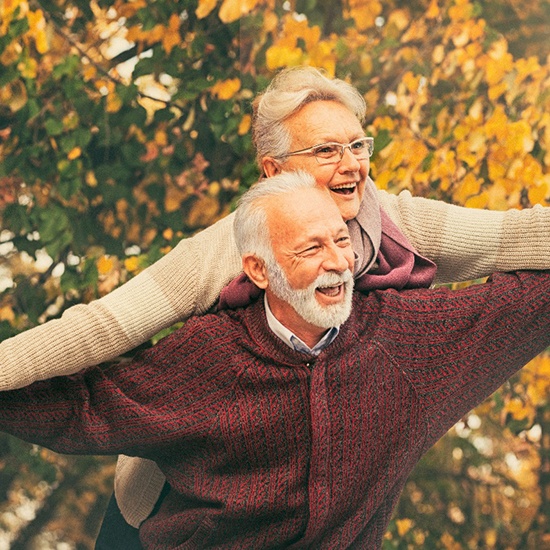 Those who are struggling with moderate to advanced tooth loss are most likely good candidates for dentures. This restoration option is designed to fully restore your smile, speech, and chewing ability, enhancing your overall quality of life. Our team will monitor your oral health during your initial consultation to see if your gums and other remaining teeth are in good condition. If we detect any developing issues, we'll be sure to address them with preliminary treatments before proceeding with your restoration.
Types of Dentures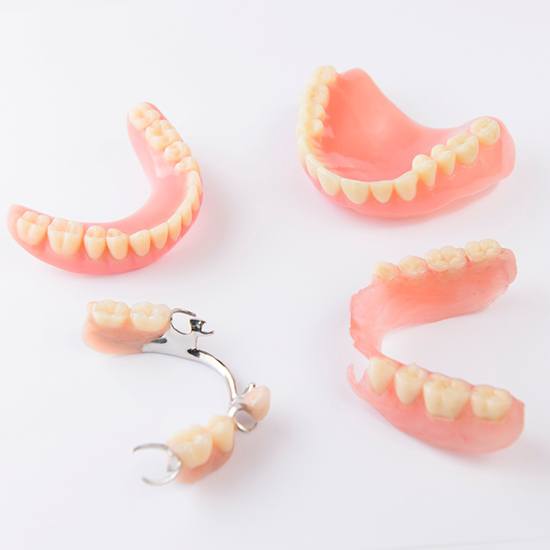 While dentures generally restore your ability to chew effectively, talk clearly, and smile confidently, several kinds can address specific dental conditions. Here are three common types you might consider:
Partial Dentures
These restorations are meant for patients who are missing multiple teeth but not all in a row. If you still have a few pearly whites intact, then we can provide you with partial dentures which will clasp to your natural teeth via a series of metal frameworks. Since this appliance has a gum-colored base, it can seamlessly fill the spaces in your smile to form a healthy-looking grin.
Full Dentures
Are you missing an entire row of teeth? Full dentures can provide the solution you need. These restorations are fitted on your gum line through natural suction, denture adhesives, or both! With enough practice, your prosthetic teeth will allow you to chew, smile, and speak confidently again.
Implant Dentures
Instead of relying on the suction with your gums, we can first surgically embed dental implants into your jaw. Once these metal posts successfully bond with your bone, we'll be able to attach your dentures directly to them. This will provide a more natural and stable tooth-replacement solution that can last you a lifetime!
The Benefits of Dentures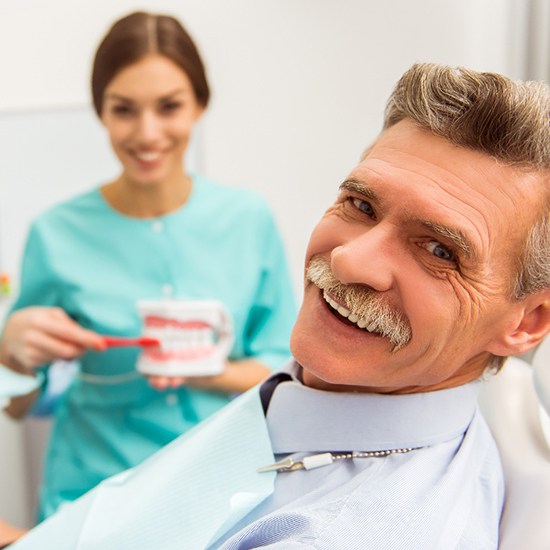 Though there are numerous methods for restoring your smile, you can expect to enjoy the following benefits with dentures:
Personalized for your specific smile.
Effective and affordable treatment.
Can last you 10 years or more.
Requires minimal maintenance.
Preserves a more youthful facial structure.